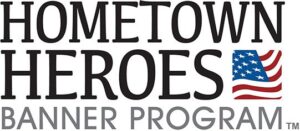 Millsboro Hometown Heroes Banner
Program
The Millsboro Hometown Heroes Banner Program is a living tribute created in order to recognize and honor our current military personnel who are serving or our Veterans who have served our country in the United States Armed Forces.
To qualify, a Veteran, living or deceased, or currently enlisted personnel, must have had or have a familial or historical connection to Millsboro (attended school, has a relative, or served in Millsboro, etc.) at some point in his or her life. Those honored on War Memorials and Veterans recommended by the local VFW and American Legion Posts qualify as well.
The banner will be 18" x 45" heavy Sunbrella material, printed on both sides, and will display the service person's photograph, including their full name, branch of the Military, and the era of service (WWI, WWII, Vietnam, etc.)
Each Banner requires the Hometown Hero Form to be filled out, with a photograph of the Hero in uniform, and are being accepted on a first-come, first-served basis. You can click the link or download and print a copy by clicking: Millsboro Hometown Heroes application If you chose to print an application you may scan and email your application and photo to:
majornathanielmitchell@gmail.com or email us for a mailing address.  
For further information, please contact Carol Evans, Regent, or Adrienne Donaway, Vice Regent,
Major Nathaniel Chapter NSDAR at
majornathanielmitchell@gmail.com
We are currently accepting donations!
Donations are being accepted by check (email us for a mailing address)
or
Donations are greatly appreciated, however, a donation does not guarantee that your veteran will be featured. Banners are on a first-come, first-served basis and are limited in quantity.
Should the Millsboro Hometown Heroes Program become fully funded, your donation may be used to support other Hometown Heroes Banner projects in other neighboring towns.